"Today's Cake is a Log" marks Hotel Pro Forma's 30th anniversary 0
Anne Neimann Clement from Copenhagen
13/11/2015
Photo: Torben Eskerod
- HOTEL PRO FORMA: TODAY'S CAKE IS A LOG -
GL STRAND, Copenhagen
November 6 - 29, 2015
TODAY'S CAKE IS A LOG is an exhibition hybrid that marks the 30th anniversary of the famous Danish performance-theatre laboratory Hotel Pro Forma. In the historic exhibition spaces of GL STRAND in Copenhagen, we are invited into site-specific stagings where live performances, as well as tableaux vivants, are recurring phenomena. Works accrued from 30 years of international artistic activity have been moved out of the archives, out of the theatre, and straight into the framework of visual art.
Ever since my first acquaintance with Hotel Pro Forma back in my high school days, this performance-theatre entity has been like a legend to me. There is a certain aura around the institution and its red-haired front figure, Kirsten Dehlholm, so my expectations are high when I visit GL STRAND to experience their big retrospective exhibition, TODAY'S CAKE IS A LOG.
My curiosity is aroused already in the stairwell as I climb the stairs. I hear a sounding of footfalls, but they don't belong to me, and I don't see anybody else. From speakers placed in the stairwell, the sound of my footfalls – or somebody else's – has been amplified. With a simple and yet effective method, Hotel Pro Forma plays with our senses and challenges our perception – two things that characterize most of their works. As I enter the first room, a woman dressed in yellow clothing nods at me and says in a friendly tone: "I think I've seen you before". For a split second, I feel the same sense of recognition, but then she returns to her knitting, and I realize that she is part of the exhibition. She is not only physically present in the room, sitting there knitting on a small stool next to a mirror – she (or at least her character) can also be seen in one of the two great video projections filling the room.
In room number two, an architectural model is exhibited next to a narrow window that allows for a peek into the engine room of the museum, which itself is staged with a mix of different media. Next to the engine room, big white banners with text fragments from previous performances by Hotel Pro Forma hang from the ceiling. Usually, Hotel Pro Forma does not highlight any media over others, but this time the text plays a prominent role. By visualizing the text, and making performers read aloud, TODAY'S CAKE IS A LOG allows us to stop and enjoy the written universe of Hotel Pro Forma – at once both poetic and confrontational.
The third room presents a series of big digital photos, each with a picture from Hotel Pro Forma's greatest shows throughout the past 30 years. A big projector has been installed on the ceiling, activating the two-dimensional printed photos with moving pictures and sound recordings from selected performances. We see or revisit images and sequences from the manga-opera War Sum Up, the choir on the staircase from the worldwide success Operation:Orfeo, and the absurd staging of the Hans Christian Andersen story I only Appear to be Dead.
On the second floor, the view from the room has been painted on the wall. The windows are blacked out, blocking the beautiful view over the inner city of Copenhagen; instead, the canal, the parliament, and the old Thorvaldens Museum have been reproduced in vivid colors. The painting acts as a mega-sized backdrop for the live performers who present texts from Hotel Pro Forma's performances – an activity that is being done continuously throughout the duration of the exhibition. During the three-week-long exhibition period, a total of 150 performers will read aloud texts from Hotel Pro Forma's many performances, all written by prominent living or deceased Danish writers.
The last two rooms of the exhibition are complete installations with neon lights, fluorescent objects, plastic boxes, costumes, scary rabbits, and video projections – all sourced from Hotel Pro Forma's archive, and thereby inviting the viewer into their own private universe of rarities, science, and mythology.
The title of the exhibition was inspired by an experience had by Kirsten Dehlholm, founder of Hotel Pro Forma, in a Danish State Railways train. As the sales woman pushed her catering trolley through the car, she was announcing that "Today's cake is a log...," - referring to the small marzipan-truffle cakes made in the shape of tree logs. "It struck me just how easily a few words can completely alter the meaning of everyday phenomena. It also struck me that the cake of today, which in 2015 is a 30th birthday cake for Hotel Pro Forma, must be the size of a whole log," Dehlholm explains.
About Hotel Pro Forma. Breaking out of genres and avoiding representation
Hotel Pro Forma is an international laboratory of visual music performance. Since 1985 Hotel Pro Forma has produced more than 50 works shown in over 30 countries – in theatres, museums, and public buildings; from town halls to shopping malls.
The theatrical entity has no permanent ensemble or stage. The artistic director is visual artist Kirsten Dehlholm, and she collaborates with different artists, performers, musicians, writers, designers, and architects, as well as people of non-artistic professions, from project to project. During these years she has worked with dwarfs (people afflicted with dwarfism), twins, soldiers, and people with other handicaps, among others. In "The Picture of Snow White" (1994), twelve dwarfs – one at a time – share with the audience their thoughts on beauty, along with their authentic life story – and this all took place long before Youtube, Paradise Hotel, or the concept of "citizen theatre".
By using real people as performers, readymades or everyday experts, Hotel Pro Forma takes theatre beyond representation, and presents a part of reality. These people, objects and themes from the real world are, in the able hands of Kirsten Dehlholm, blended into a conceptual, visual and musical art form. The artistic process is exploratory and trans-disciplinary. The structure of the work is strongly anchored in music, the visual arts and architecture, and does not follow
traditional theatrical structures. Instead, the work presents visual and musical universes that investigate universal subjects such as evolution, world cultures, perspective, and gravity. Experimental technology in audio-visuals, light and sound is often developed anew for each work, and consequently, the audience is presented with themes and subjects in completely new contexts and ways.
Kirsten Delholm's mission is to challenge traditional theatre – its narrative and causality, its deeper psychological meaning and plot. She breaks down the fourth wall in traditional theatre, which is based on the audience's identification with the actors. Instead, she makes the audience aware of their gaze and position in the room. With simple but effective means, she creates performative installations that make us reflect on not only what we experience, but also on how we see, hear and perceive. Sometimes she places the audience above the stage, sometimes the audience members sit behind one another, and sometimes there is no stage at all, and the audience wanders amongst the actions that take place.
Dehlholm likes to play with our senses and concepts of proportion, scale, and distance. Mixing genres as different as opera, performance, media art, and installation, she creates tableaux that trigger our ears, eyes and minds. With unusual, complex and formalistic stagings, she offers new points of view, new models of perception, and new perspectives on the world we thought we knew. This is a highly disciplined practice with no random choices.
Conclusion. 30 years of performance theatre in an art gallery
Contemporary art is, per definition, trans-disciplined. We do have opera houses, theatres, concert halls, and art galleries, but in art there is a desire for putting everything together into new constellations. The artists of today often work site-specifically, and we are used to coming into contact with art outside of art institutions. Celebrating 30 years of performance art with a huge installation spread out among two floors in GL STRAND is, therefore, an obvious choice. Yet I would prefer experiencing one of their shows in its full length, in the theatre and together with an audience.
The museum does have many benefits, though: you manage your own time, you don't have to experience it from beginning to end, and you can see (but not touch) the exhibited objects in very close proximity. But these benefits become disadvantages in this case. The experience simply becomes too fragmented. TODAY'S CAKE IS A LOG leaves the visitor alone with his or her own individual interpretation, and even with a certain prior knowledge of Hotel Pro Forma, you easily get lost in all the references pointing back and forth in time. The exhibition does not hold the same magic that can occur in theatres and performances taking place in the "here and now" that one shares with other people.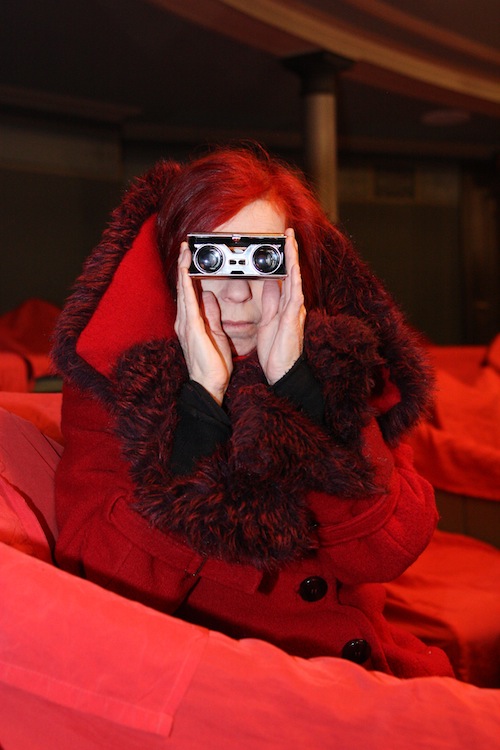 Kirsten Delholm. Photo: Elza Niedre
Hotel Pro Forma is probably Denmark's most significant theatre company, and there is no doubt that Kirsten Dehlholm is an artistic genius. The work of the last 30 years has been a great inspiration for artists, researchers, students and many others, not only in Denmark, but internationally as well; and if you don't know of Hotel Pro Forma, TODAY'S CAKE IS A LOG is a great opportunity to increase you knowledge of their work. The exhibition invites you to dive into the great repertoire of Hotel Pro Forma which, throughout the past 30 years, has revolutionised theatre.
TODAYS' CAKE IS A LOG is part of an on-going and curious investigation that always takes place in works by Hotel Pro Forma, and it makes you look forward to what the future will bring to their crazy, absurd, and beautiful performances.
Read in Archive: Art is like a sunset. An interview with Kirsten Delholm