Materializer of Light – Daiga Grantiņa 0
Odrija Fišere
18/10/2016
With the support of the State Culture Capital Foundation
Daiga Grantiņa was born in Latvia in 1985, at age seven her family moved to Hamburg, Germany. Grantiņa studied at the Academy of Fine Arts, Hamburg (HFBK Hamburg), and at the Academy of Fine Arts, Vienna. She then lived and worked in Berlin for several years, but for a while now she has chosen Paris as her home base. There she works with Joseph Tang gallery, but she still keeps close ties with Berlin, where she is represented by Matthew Gallery. In January 2017, Kunstverein Hamburg will present a solo exhibition by Grantiņa.

Daiga Grantiņa. Buff in Red. Exhibition Heap-core,,, at kim? Contmporary Art Centre (September 2 - October 16, 2016), Riga. © Photo: Toan Vu-Huu
Besides the exhibition at kim? Contemporary Art Centre, in the past year Grantiņa has also had shows at Galerie Joseph Tang in Paris, Stefan Lundgren gallery in Majorca, and at 83 Pitt Street in New York. Upcoming solo projects for her include an exhibition at KUB Billboards in Bregenz, Austria (curator – Eva Birkenstock), and a showing of her works at the Galerie Joseph Tang stand at the Paris Internationale art fair. Some of her latest group shows include "Adhesive Products" at Bergen Kunsthall, Norway; "Les Levres Nues" – DOC, in Paris; and "The Pleasure of the Text", at Campoli Presti gallery, in London. Grantiņa's work has been covered in such publications as Les Inrockuptibles, Kaleidoscope, Artforum, Artagenda.com, and Frieze International, among others.
When asked about her relationships with galleries, Grantiņa answers that she likes relationships in which you don't know where they will take you, and where nothing is predictable. It seems that Grantiņa follows a similar principle when creating her works – the creative process itself is important, as is randomness – as the foundation for the work. Also, it's important that in the artwork there is something that the artist herself does not yet know.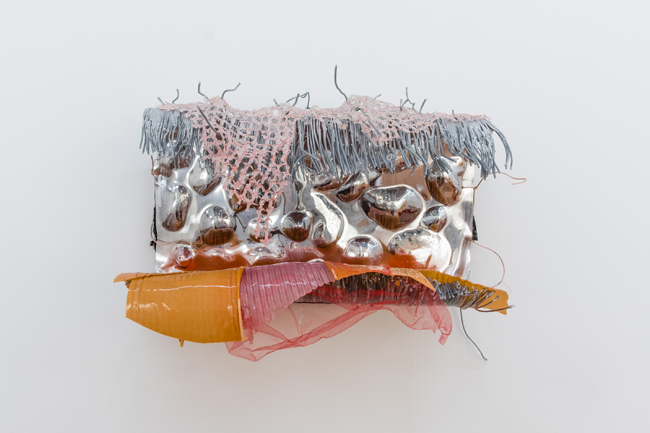 Daiga Grantiņa. Ribscreentray. Exhibition Heap-core,,, at kim? Contmporary Art Centre (September 2 - October 16, 2016), Riga. © Photo: Toan Vu-Huu
You studied at the Academy of Fine Arts, Hamburg, and at the Academy of Fine Arts, Vienna. Those institutions are linked to many famous names in the history of contemporary art. Why did you choose to study art, and why at these schools specifically?
I didn't choose Hamburg; that's just where I woke up [laughs]. In 1992 my parents decided to move to Hamburg, and that's where I received my general schooling. My art teacher in high school inspired me to continue my education in the arts. He himself had studied at the Hamburg Academy when Joseph Beuys was an instructor there. At that age, the decision itself to study art was more important than where.
Who did you learn under?
Various artists, and also guest professors. I studied under a very conceptual artist, and then under another one I studied painting. In Vienna I was in the sculpture group, but at that time I was most interested in experimental film. I mostly worked with Super 8 film. Slowly my interests developed further; after my studies, I began to work with the projection space itself – the space between the projector and the surface of the wall or screen on which the light lands. In this space, I began to introduce objects that reflect light, and in that way, they materialize the projection space itself. Over time, the ever-increasing number of objects that began entering this light space took over. Basically, the objects ate up the light [laughs].
Now the ray of light is slowly returning. At the kim? exhibition, there's great emphasis on that – starting with how natural light is "framed", or materialized (I'm always talking about "tunnels of light") in the way that architecture embraces light – how it accommodates it. The rays enter the space through the tunnel and become physical; they become a part of the sculpture – that's the main idea.

Daiga Grantina. "Grotto from Glammar", exhibition at Galerie Joseph Tang (28.04.2016 - 18.06.2016), Paris, France. © Photo: Toan Vu-Huu
Was this – what you are describing as tunnels of lights – on view at your solo show at Joseph Tang gallery in Paris?
The name of the Paris show was "Grotto from Glammar" – I wanted to transfer the idea of a grotto into a standardized space – make the space into a grotto. I used drywall to make a smaller space within the larger room – like the Russian nesting doll principle. I cut holes in the drywall which related to both the silhouettes of the sculptures and the perception perspective from within the "grotto" itself. In this way, the holes also became sculptural material – just like in the case with the tunnels of light. There were sculptures both within and outside of the "grotto". This sculptural place was more like a permeable frame – similar to an arcade.
In a sense, it's a way for me to format the work – like a jpg or tif. A work can have various formats – it can have greater resolution, or less. Just like a picture, except in three dimensions.
I'm slowly understanding that in this way, through objects, I have arrived at sculptural space. I believe it's a retrospective process: to step back and notice that things aren't going only in one direction – they're jumping backwards.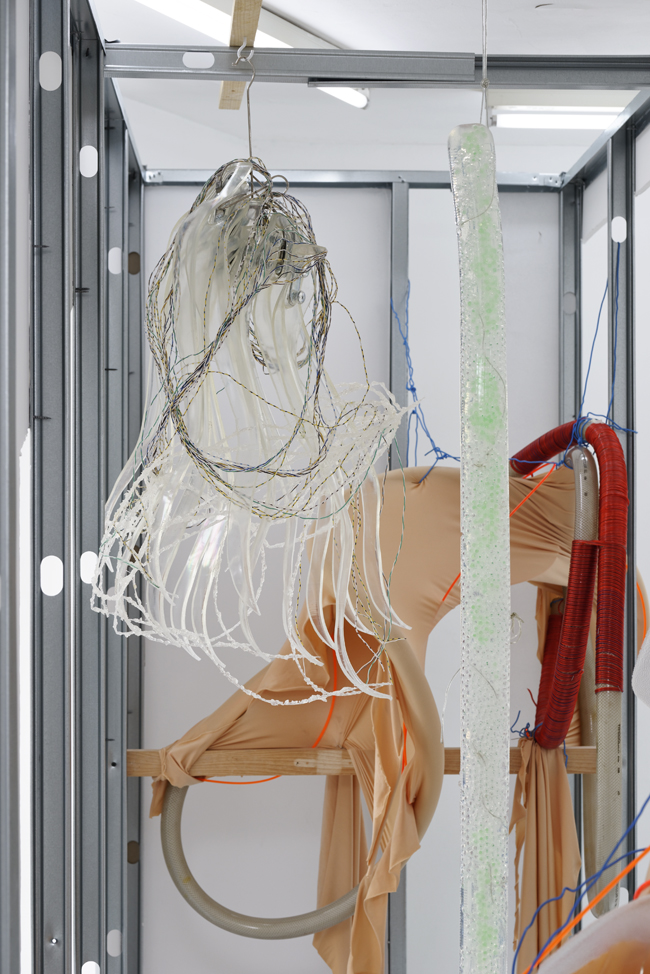 Daiga Grantiņa's exhibition Grotto from Glammar. 2016. Galerie Joseph Tang, Paris. © Photo: Aurélien Mole
Like crochet…
Exactly: mental crochet! I'm crocheting with the help of time; I lay down one layer, then a second one, then I take a deeper layer, and then – the surface. It's not as if I begin with an idea or a theme. There's the material aspect – colors, textures, scale and form, how the material reacts with light – and I try to communicate with the process; sometimes I even suspend it, in order to understand in which direction it can go. Perhaps that which goes on between me and the material could be called psychoanalysis.
So, what is important to you is an interest in the space, an interest in light, and then the process itself. How important is the end result to you?
If I have a concrete idea, if I know what it should look like – what the end result should be, then there is nowhere for me to take the next step. In that case, the idea becomes a product, or a fetish of mine. I try to pierce through this. That means overcoming myself and looking at: how I can move forward; what are the work's prospects; and what kind of scene, tunnel or window this work will open. That is much more important then the end result in itself. Probably the most crucial thing is – what sort of effect does the work have on me; the sense that I realize that it is somehow affecting me (either positively or negatively), and that lets me continue working on it.

Daiga Grantiņa's exhibition Heap-core,,, 2016. kim? Contemporary Art Centre. Photo: Ansis Starks
Does that mean that none of your works are finished?
It's important to me that they remain open. That there's something there that I still don't know myself.
How do you know at what point to stop?
I sense that the work isn't letting me do anything; it's resisting. You sense that he or she is… There are also works which I've divided into parts, but just like with a hydra – you cut off one head, and five grow in its place… Sometimes there are practical reasons, e.g., the piece has been created in an exhibition room, and it's become so large that it can't get through the door, etc. That's when you understand that the work is like an organism that has its own place. The process was there, but now it simply does not exist physically anymore, and it transforms into something else. Moreover, works have different natures – some have a heart, and nothing more can be done to them; others are like octopuses – you cut off one arm, but it keeps on living nevertheless. But I don't want to say that an octopus doesn't have a heart…
You talk about works as if they were living things. Is that how you perceive them?
Yes, and I hope that that is how they perceive me [laughs].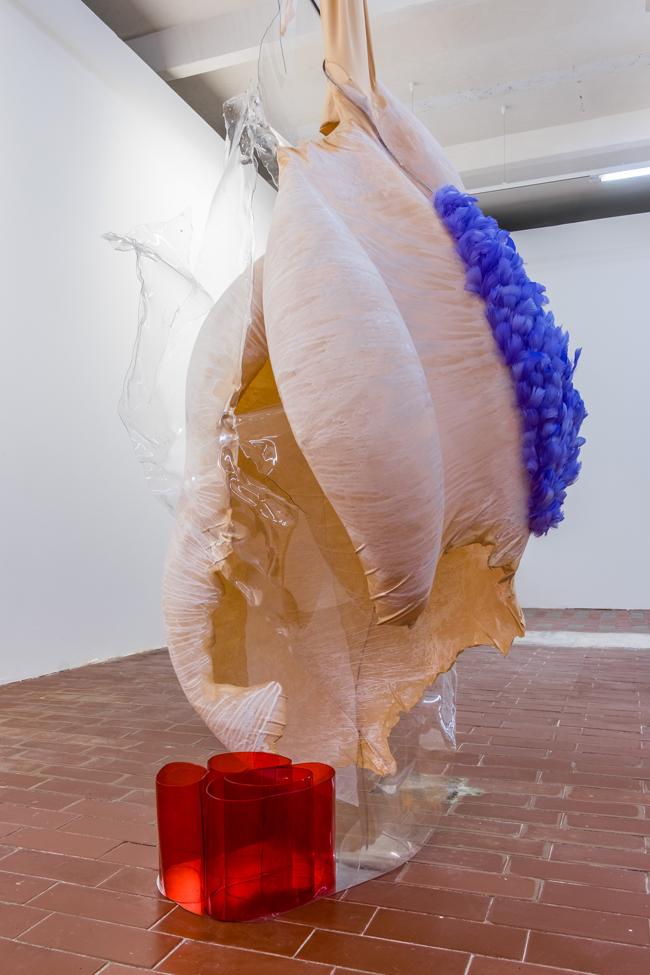 Daiga Grantiņa. Buff in Flight. In the exhibition Heap-core,,, 2016. kim? Contemporary Art Center. © Photo: Toan Vu-Huu
When you talk, it sounds a bit like it's coming from the pages of a science-fiction novel or a movie. Are you interested in this genre?
I'm very interested! Actually, it's very difficult to avoid any subject – you go on the internet and they jump out at you themselves. You just have to keep your eyes open. This intensity is important to me – so many things are going on at the same time! All of these different worlds are happening in one window. I'm interested in the latest information of all kinds, and music has always been especially important. It's like nourishment. Everything is nourishment.
What do you listen to? Do you compose music yourself?
No, I have yet to compose anything, but I'm interested. Right now I'm listening to the latest albums by Kaytlin Aurelia, Solange, and Christian Naujoks.
Do you create your works yourself? Do you have assistants?
I do it myself, although I've reached the point where I need four hands because, in terms of size, the works have outgrown me. I've had good luck – for a while now I've been assisted by a young Estonian artist, Kristin Reiman.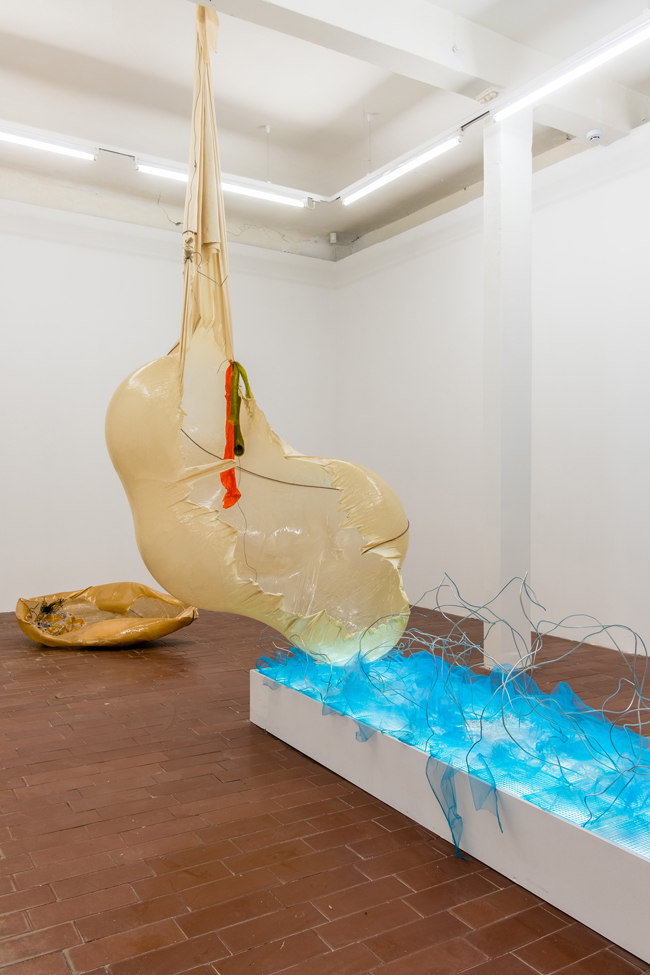 Daiga Grantiņa. Pharmakon and Being pool (Buff). In the exhibition Heap-core,,, 2016. kim? Contemporary Art Centre. © Photo: Toan Vu-Huu
What does your studio look like?
It depends – at the start of the working process, everything is very organized. I like to organize everything – I take down from the shelves things that could be important, and I make little piles of materials according to texture and color.
Do you purchase or "find" your materials?
At the time when I began working with sculpture, I worked at the Palais de Tokyo's residence Le Pavillon, in Paris. You can do a lot of walking there, and that's how I found many things. Especially after Christmas – people throw out a lot of things, especially shiny ones, which are of interest to me in relation to projections. Now I don't want to wait for Christmas...[laughs]. In addition, I like to select materials according to the colors in which I see the place – every city has its own color which has been somehow integrated into its environment.
What is that color in Riga?
Riga has a lot of green – for instance, on the scaffolding erected alongside buildings; there are also shades of red. It's rather close to nature. There's not much of the color blue, as there is in, for example, Berlin and Hamburg. Shades of brown and gray also dominate there. In Italy, orange is a very conspicuous color.

Daiga Grantiņa's exhibition Grotto from Glammar. 2016. Galerie Joseph Tang, Paris. © Photo: Aurélien Mole
How great of a role does chance play in your work?
That's the foundation on which I base it. It could also be looked upon as one of the variants of conceptualism [laughs]. In any case, it would be in the same category as Gil Joseph Wolman's "L'Anticoncept". I think it's very closely related to one's perception of life. That's how it enters the work, and that's as much as you allow.
Do you follow along with what's going on in contemporary art?
I'm very interested in conversations with artists, what artists themselves write and publish, and how active they are when it comes to taking responsibility for their works. I also think it's very important to actively accept your role and not hide behind the works. I also tell myself that as a form of therapy [laughs].
Do you position yourself as a Latvian artist?
No.
Does that even seem relevant to you?
No. I have a very difficult relationship with the concept of identity. And that's not just in terms of nationality. I think that is related to the fact that I grew up with several languages. Depending on which language I'm speaking, my voice changes. The Latvian language has its own voice frequency; that of the German language is much lower; and French is somewhere between the eyes and the nose. All of that, I think, influences identity. I think it's important that I don't have this sense, and that I don't search for my national identity. There are a few people whom I talk to a lot, and with whom I spend a lot of time – and that's enough. And that's something that you can create yourself.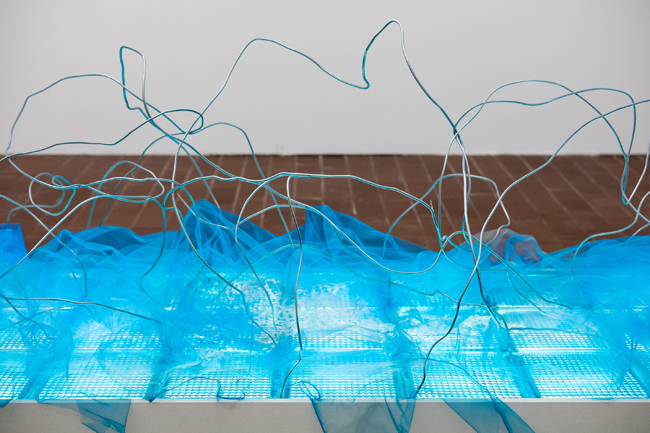 Daiga Grantiņa. Being pool (Buff). In the exhibition Heap-core,,, 2016. kim? Contemporary Art Centre. © Photo: Toan Vu-Huu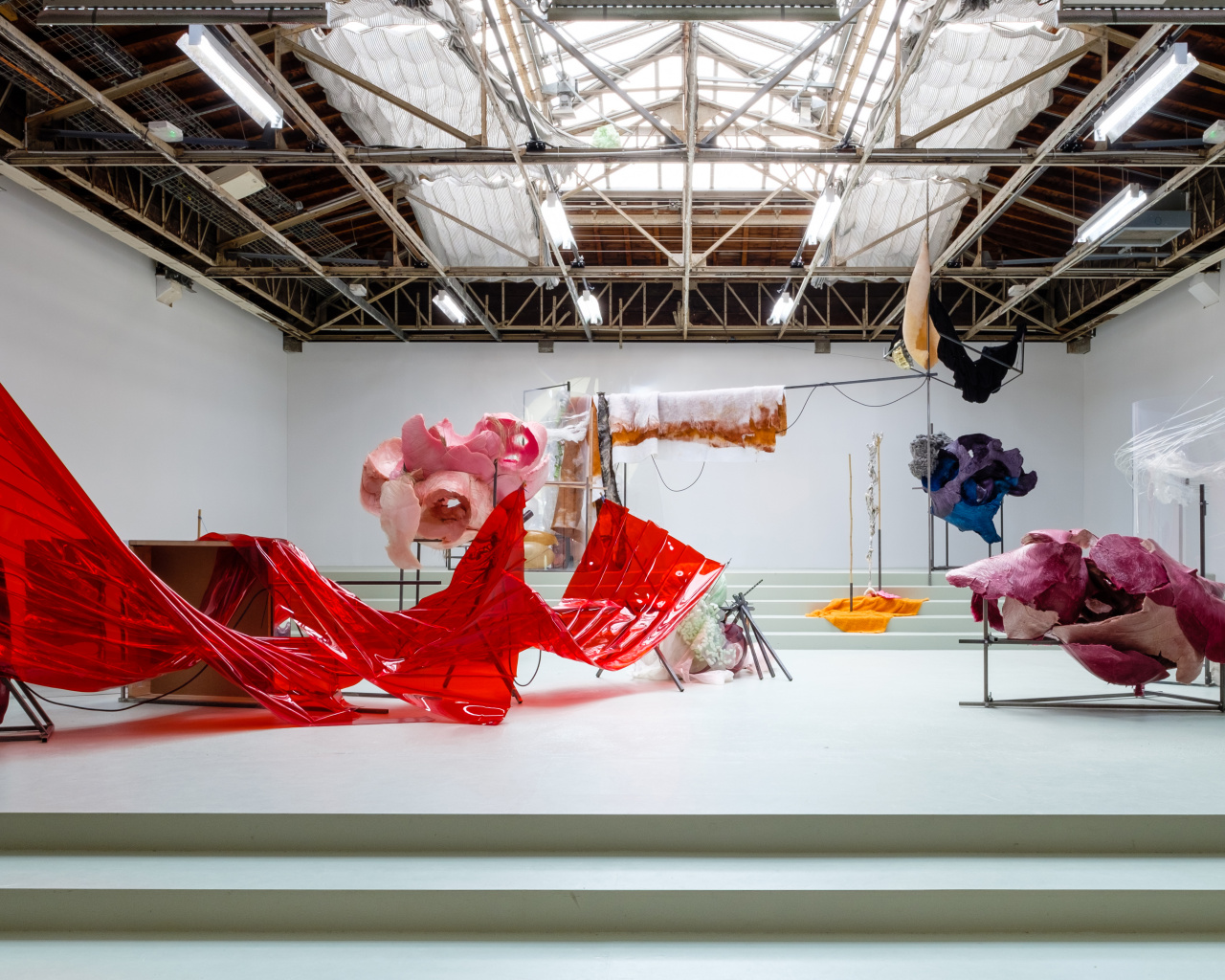 Daiga Grantiņa. 2015 © Photo: Toan Vu-Huu