Art is like a sunset 0
Interviewed by Anna Iltnere
22/01/2014
Performances of "Rienzi. Triumph and Defeat" at the Latvian National Opera, June 3 and 15, during the Riga Opera Festival
In The Old Town of Riga, just a couple of hundred meters from the Latvian National Opera (LNO), there is a small street named after Richard Wagner – and it happens to butt up to bright-red, italicized neon letters – H&M. It was this study in contrasts that flitted into my mind as I watched the dress rehearsal for the opus of images known as "Rienzi. Triumph and Defeat". The production opened on the evening of January 17, simultaneously kicking off "Riga 2014" – the city's one-year reign as the European Capital of Culture.

Performance of "Rienzi. Triumph and Defeat" at the Latvian National Opera. Photo: Kaspars Garda, Rīga2014.org
In the hands of the Danish group Hotel Pro Forma, Wagner's opera "Rienzi" (which he began writing in Riga) has been both shortened and embellished with contemporary touches: colorful and asymmetrical costuming by Mareunrol's; a priest with smeared black lipstick, à la Marilyn Manson; Rienzi himself with a face blackened by the soot of sin; and a battalion of ballerinas that rips into Wagner's score with its own interlude and, wearing traditional tutus, dances classical ballet to the electronic music of Voldemārs Jansons. A live horse, searing laser beams, black and white Latvian flags, and then a return to color. At times, you study the costumes of the Riga Dom Cathedral Boys Choir because they are all different – no two are alike. And at other times, you simply sink into the show as a whole, which can be enjoyed like a live painting with interplays of sound, lights and composition.
This is the second time that the head of Hotel Pro Forma, Kristen Delholm, has conjured up a new world upon the stage of the Latvian National Opera: in 2011 there was the production of "War Sum Up". (Hotel Pro Forma also presented the visual opera, "Operation: Orfeo", at the Latvian National Opera in 2007, but not as a new staging, since it had already been performed in 1993; the production was revived in Riga with the cooperation of the Latvian Radio Choir and the LNO). Before the opening of "War Sum Up", Arterritory.com had the chance to meet with the costume designer for the production – Henrik Vibskov, who has become Denmark's most stylish export. For the "Rienzi" production, however, the costumes were designed by the Latvian duo of Rolands Pēterkops and Mārīte Mastiņa-Pēterkopa.
"Kirsten Delholm is a very strong director, and it was easy to work with her," Rolands Pēterkops tells me. "Unlike many other directors, she knows what she wants. She has a strong vision from the start, and it doesn't change throughout the process, so it is really interesting and easy to work within it. As a director, Kirsten is open to the same kind of searching as we are, and she isn't afraid to experiment, nor is she afraid to be not understood. She is very humanistic and sincere." Mareunrol's were the only ones of the creative team who didn't come up onto the stage for the curtain-call after the final dress-rehearsal, and they also had to miss opening night because they had to go to Paris – to show their autumn/winter collection for the 2014/15 season during Paris Men's Fashion Week, which took place January 17 – 21.
The red-headed Danish director, curator and artist, Kirsten Delholm (1945), founded Hotel Pro Forma almost thirty years ago in Copenhagen, as a performance and installation laboratory. The group's works have garnered world-wide recognition and are renown for being visually powerful, avant garde, and impeccably polished. In his 2011 interview, fashion designer Henrik Vibskov recalled how Hotel Pro Forma was a role-model for him already in this teens: "Fifteen years ago, I saw a picture of a Hotel Pro Forma production in a newspaper, and I thought – this is so great!"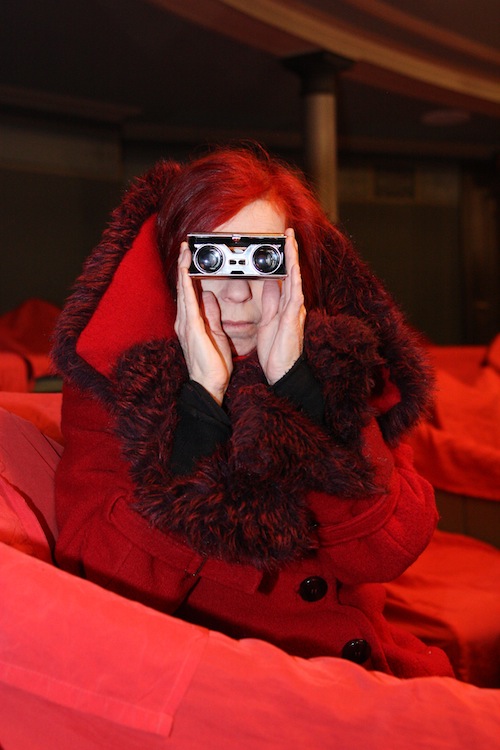 Kirsten Delholm. Photo: Elza Niedre
Kirsten Delholm has visited Riga several times (her favorite place is the Riga Central Market, where she's even found some stage props). I meet her in the opera's Great Hall. The surrounding chairs are draped in cloth that is as red as her coat – and just as red as the opera glasses that she chanced upon in a Riga antique shop the previous day. Next to her sits Maja Ziska (one of the two stage designers for "Rienzi. Triumph and Defeat"), who is working with Hotel Pro Forma for the first time; and Jon R. Skulberg, who has been working with Kirsten for several years now in making up the core for Hotel Pro Forma. He is the choreographer for the production of "Rienzi. Triumph and Defeat".
How contemporary is the story of Rienzi?
Power, and the usurping of it, is a timeless theme. Even thought the events in "Rienzi" take place in the 13th century, the story of a popularly elected leader who becomes a tyrant, and is then killed by the same people who elected him, was played out again just two years ago, in Libya. Power is a theme that will always be current.
When we started working on the opera "Rienzi", we first withdrew its essence – in order to come closer to the pure meaning of "power". Wagner's version is more than five hours long, and it reveals the fate of one man. We have kept two hours of it, so that it wouldn't be too long, nor too loud. Yes, we refrained from using the loudest parts of the opera.
There's a story that at the premier of "Rienzi" in 1841, in Dresden, Wagner stopped the clock that hung above the stage because he was afraid that people wouldn't be able to endure more than six hours, including the intermissions.
Yes! (Laughs) Later on, he divided the show into two performances over two evenings – people were very displeased about it because now they had to buy two tickets to see the whole thing.
In order to shorten the performance, the conductor Modestas Pitrenas [the LNO's main guest conductor, and one of Lithuania's most famous conductors – A. I.] chose what musical parts of "Rienzi" to keep. Basically, it's been winnowed down to the "greatest hits" – very beautiful and melodic pieces, many of which were specifically written for a choir, with which we were very pleased.
Hotel Pro Forma avoids the psychological details in its productions, placing more attention on the theme as a timeless and overarching value in itself – and without diving into psychology. We look at it from a above.
How did you select the team for "Rienzi. Triumph and Defeat"? In contrast to "War Sum Up", this time there are several Latvian artists involved – costume design by Mareunrol's, and electronic music by Voldemārs Johansons – among them. Were they recommended to you, or did you already know their work?
I already knew them! When we were preparing "War Sum Up", Rolands Pēterkops worked as an assistant to Henrik Vibskov, the costume designer, by assisting with communication with the garment makers in Riga who were sewing the costumes. We acquainted ourselves with his and Mārīte Mastiņa-Pēterkopa's collection, which really spoke to us. When we were asked to produce "Rienzi", that was the first thing I said – the costumes will be made by Mareunrol's! I'm very happy with my decision, because working together has been great. The results, which you will see on stage, are wonderful, and surprising! The garment makers have also done an excellent job.
In talking with the playwright, Mikus Čeže, while developing the production's dramaturgy, we decided to include the ballet in the second act. I must note that, historically, ballet has been a part of "Rienzi". Mikus suggested that we invite Voldemārs Johansons to compose the score for the electronic music. It turned out that I had known Johansons beforehand, in Denmark, but as a visual artist not a composer; I had curated an exhibition with "Water" as its theme, and I had chosen for it one of Johanson's works that I had previously seen in a museum. I was happy to work with him again, and he gained a perception of the concept very quickly, devising what to do with the electronic music so that it would serve as a contrast with the "heavyweight" that is Wagner. In addition, he composed it so that it corresponded wonderfully with the fragile and skillful movements of the classical ballet dancers.
What key words would most precisely describe the set design – i.e., the production's visual presence and atmosphere?
Maja Ziska: Almost none of the set decorations touch the ground. Except for the actors, almost everything else hangs in the air, like a unified structure. In the first act, one sees an image of a Spanish riding school in Vienna, which is then repeated as a two-dimensional drawing on various materials and executed in a variety of techniques. The images are put into motion with lighting effects and laser-beam drawings; whereas on the floor, there is a grid of dots that corresponds to the movements of the people on stage. In the second act, a large black box hangs over the stage, taking over almost the whole stage. Every prop, every visual detail, is linked to the theme – the horse.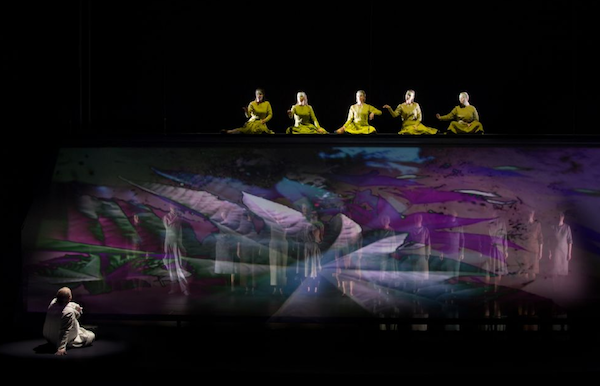 "Parsifal", opera by Richard Wagner, premiered in Poznan, 2013. Photo: Katarzyna Zalewska
How did you arrive at the idea to use a white horse as the central theme for "Rienzi"?
Jons R. Skulberg: In preparing for the production, we went to the previously-mentioned Spanish riding school in Vienna, to gain inspiration. It is a powerful and ceremonial space. The world of visual details, movements and objects associated with the sport of horse riding is also very suggestive. As we delved into this material, we came up with a slew of ideas, including for the choreography. And that is always the most correct way of working. To choose just one, not one thousand and one. Going to last summer's Latvian Song and Dance Festival was also energizing.
Kirsten Delholm: Having the horse be the central element was decided upon already during the early stages of creating the production. The horse is monumental. On its own, it is not a testament to power, but it becomes a symbol of power once a person gets on its back. There are so many statues that make use of this! Whereas a white and unsaddled horse symbolizes freedom. Although it's a cliché, for us it serves as a direct embodiment of freedom and dreams. Historically, the horse is a part of war. The horse is nature; the horse can be found in folk tales and stories; it has a multitude of symbolic meanings. And it is not really accepted that a horse should be put up on stage. Hotel Pro Forma frequently puts things up on stage that shouldn't be there.
Jon R. Skulberg: Having a horse on stage brings its own unique kind of presence. One that neither singers nor a choir have. A horse is a horse, and it has a presence...
Was it difficult to find the right horse?
Kirsten Delholm: I wouldn't say it was difficult, but we did audition horses. Horses are nervous and very sensitive to the surrounding environment. Admittedly, horses don't quite go with Wagner, especially with the "loud" Wagner. But I think we've found a very good horse.
Do you remember the first time you heard Wagner?
Jon R. Skulberg: Before "Rienzi", we worked on another Wagner opera – "Parsifal". This has really been a year for Wagner, but I don't recall ever having listened to his music just for the sake of it. I've only had a professional relationship with Wagner. Moreover, Wagner's music must be heard live. Sitting by a set of speakers doesn't quite cut it.
Kirsten Delholm: We had been invited to produce "Rienzi" in Riga a long time ago, and only more recently, to do "Parsifal" in Poznan. But is just so happened that "Parsifal" opened first – in October of last year. In principle, that's how we readied ourselves for "Rienzi".
I am overly in love with Wagner's music. "Rienzi" is one of the works from his more youthful days, when he hadn't yet formed his own signature – the one that is worshiped throughout the world. And it is specifically this youthful Wagner that we like.
Jon R. Skulberg: ...the one who dared to be much more playful.
Kirsten Delholm: Some of the "Rienzi" songs are even quite melodic, which I really like. We create images for the melodies in order to get closer to the complete artwork (Gesammtkunstwerk – Ger.). The images we've created are active, but not too dynamic. And a long time passes before one replaces the next. That's because we believe that visual impressions need time to be properly perceived, and for them to take root in the mind. It's really nice to be able to have time to just sit, watch and enjoy – both the details and the composition as a whole.
We are extremely careful in terms of details. Both the broad view, and each and every detail, are of equal value to us. And that's a big challenge when working in theater, where you don't have the time to execute everything, and where there isn't a general understanding of the importance of precision – but there is when painting or creating installations. Actually, that's exactly what we are doing – we're creating art installations on stage. And we struggle to bring that about.
Soloists are not used to having to think about what is going on around them while they're singing. Soloists think that they are the center of the show – the main storytellers. In our productions, that's not the case. The entire composition is the main storyteller. The soloist is just a part of the whole. Not everyone is able to understand this from the start.
Do you think about your audience while working on a production?
Kirsten Delholm: Some will like the production, some will not. Some will enjoy it, some will not. And that's all there is to it!
Jon R. Skulberg: But in the end, we're making it for the audience.
Kirsten Delholm: Undeniably, the works of Hotel Pro Forma differ from traditional opera repertoires – especially in terms of stage design. And that's why I'm convinced that not everyone will like it – simply because it's not the status quo.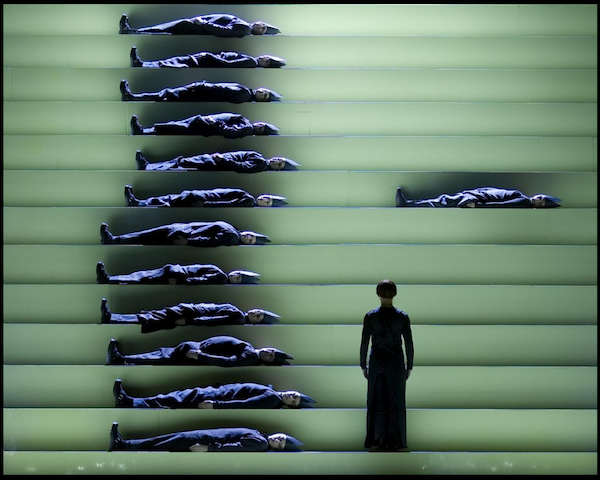 From the Hotel Pro Forma conceptual opera "Operation: Orfeo" (1993), which is shown in more than 20 countries, including the Latvia
Are you able to enjoy traditional opera productions?
Kirsten Delholm: Only the ones that are similar to the approach used by Hotel Pro Forma (laughs). Classic stage design and overacting are things that I just don't enjoy. I can't stand it when the story played out on the stage is presented as if the people sitting in the audience are utter idiots – which, most likely, is not the case. The viewer can think on his own and can make use of all of his senses. In addition, most operatic productions don't allow the music to speak for itself. Music is such a powerful language! So are the words, of course. But that, however, gets buried under everything that is extraneous, such as a when a good opera singer has bad acting skills. Productions are overburdened with activities – out of fear that the audience will be bored, otherwise. There are too many decorations and costumes, and the results are vulgar. Most opera productions are like bad children's shows – very expensive and badly done shows for children.
One hundred years ago, the opera was considered to be elitist. But for a long time now, opera houses all over the world are trying to become as accessible as they can to their audience. Huge screens for subtitles have been put up because rarely did anyone understand what was being sung. Now the audience has to not only watch and listen, but they must read as well. There is a huge temptation to make everything understandable. So that everything is clear. And I want to fight this with all my heart. The last remnants of mystery have been swept away. But the music is, in itself, a mystery! The voice is an unexplained wonder! And it should stay that way. Attempts at serving everything pre-digested are always vulgar. Moreover, this pushes the young people away because they immediately sense this, and it bores them.
How does Hotel Pro Forma allow the music to speak?
Jon R. Skulberg: We make space for the music on stage. In addition, when directing, we don't pre-digest absolutely every single symbol and interpretation. There's no need to spoon-feed the audience.
Kirsten Delholm: Opera productions are an art form in which music, lights, movements and the visual work together – which is why one mustn't get carried away with the psychological state of the characters. An opera production is the creation of a miracle.
What inspired you to start Hotel Pro Forma in 1985?
Kirsten Delholm: I sustain myself with images. I literally eat up the visual world. And I can never have enough! I an interested in, and carried away by, combining the unfamiliar with the ordinary! The big with the small. The funny with the serious. Something strange, as if taken from another world – with the ordinary! That is precisely what I do within Hotel Pro Forma. By taking things and activities from everyone's daily life, and then putting them into the context of an artwork, it allows the audience member to look at it from a different viewpoint. I really believe in such an approach, and it seems to be meaningful. That's because we spend the greater part of our daily lives... we work hard, we become used to everything, life becomes self-explanatory, and so on. It is art that gives us a slight push, shakes us up, let's us fall off of the treadmill of our daily routines. That's why I really don't like traditional productions – because they take the viewer to a different world, maybe even completely removing them from the treadmill of routine – but as soon as you leave the theater, you don't have a clue as to how to connect that which you just saw with your own life, and the event immediately leaves your thoughts. Because nothing touched you, nothing moved you.
Jon R. Skulberg: There is a mistaken assumption that psychological manipulation is needed to touch the viewer. That's not the case!
Kirsten Delholm: Music, for instance, is not psychological! Music and art are like a sunset. And a sunset also doesn't have anything to do with psychology. Who understands a sunset? Why do we love them so? Nobody knows, but we enjoy them. We are obsessed with beauty.

From performance "War Sum Up", Latvian National Opera, 2011
On the webpage of Hotel Pro Forma, it mentions that the principle of "undeniable beauty" is especially important to you. Could you explain that?
Kirsten Delholm: When you eyewitness something truly beautiful, you immediately know that it is beautiful. You just feel it. You spot a beautiful face, and you like it. Without any kind of mediator.
But to create something beautiful on stage... is extremely difficult. Beauty is a mistery. But to create it on stage means putting together completely practical things that don't have absolutely any mystery to them. Everything is super-practical. Money, time, etc. You have to solve problems, fix complications, look for solutions. To create something beautiful on stage, 99.9% of the things you can do have to come from something practical. That is such a challenge! And then the day of the show arrives, the audience has arrived and taken their seats, and they expect something special – possibly, even beautiful. And if they receive it, they are satisfied. And we are happy if we can provide it. But it requires us to put together all of the possibilities that we can find in this opera house. You wouldn't believe the machinery – how many people are really involved – to make a production happen! The theater is home to a multitude of stumbling blocks; one must constantly cross barriers to bring about one's vision.
So then, one of your jobs as a director is to inspire others to put in hard work?
Kirsten Delholm: I don't even have to inspire, since our hand-picked team is outstanding. We are united by our ambitions – to create art on the stage. And to create art is hard work.
"Rienzi" is a story of power. Ironically, it is being shown at a point in time when the LNO has recently experienced a power struggle in its executive positions; namely, the Latvian Minister of Culture fired the director of the opera, and then consequently, the minister was toppled from her own throne. As a result, there has been a change in leadership of the opera.
Kirsten Delholm: Yes, that's true. But the opera house itself is an embodiment of the state's power, and that's the way it's been through the ages. But I believe that it was a very good choice – to use it to start off the year in which Latvia is the European Capital of Culture. Because the production is not only about power games, but also about celebrations and celebrating.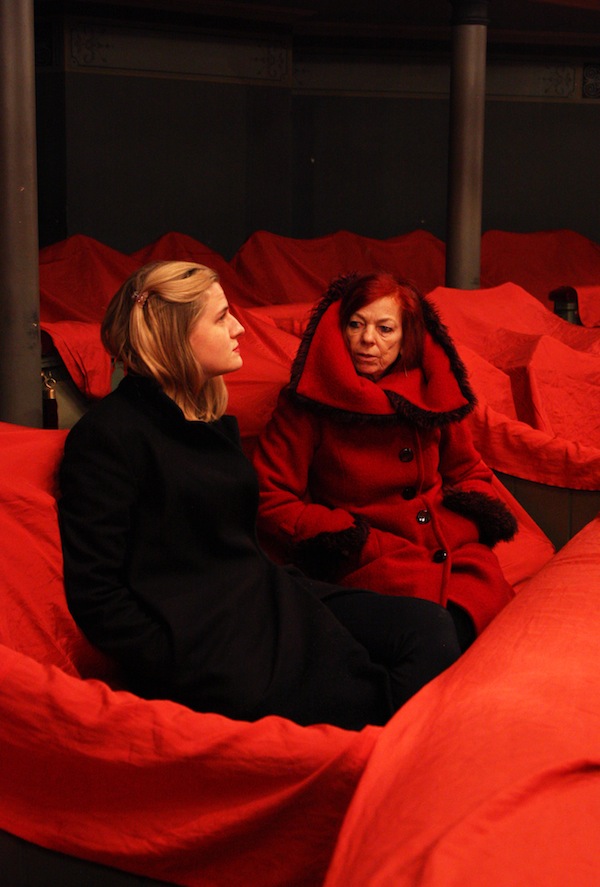 Scenograph Maja Ziska un Director Kirsten Delholm. Photo: Elza Niedre
What does it mean to you that your production will be opening Riga's year of being the European Capital of Culture?
It is great honor, a very special occurrence. Even though we only found out about it a few months ago; we've been intently working on the production even without the knowledge that it would open the "Riga 2014" celebrations. We look forward to the public's consideration and openness to something new. In addition, it's very good to start with such a contemporary production that combines classical opera with the latest in laser technology. Because it raises the bar for forthcoming productions and in terms of audience comprehension. "Rienzi. Triumph and Defeat" is not an experiment in the middle of the season. It's the starting shot for "Riga 2014".