Strolling with Padegs 0
Q&A with Martin Merkur and Liene Šilde about the exhibition "Strolling with Padegs" at the Passenger Coffee café, in Berlin
Paula Lūse
31/01/2017
Translated by Laima Ruduša
Martin Merkur's and Liene Šilde's exhibition Strolling with Padegs was opened at Kaņepes Culture Centre (Riga) in mid-January. The double-exposure photographs are on view until February 4th; they are based on immortalizing the sculptor Andris Vārpa's monument of Kārlis Padegs (1911-1940), a famous Latvian painter of his time, graphic artist and bohemian, in conjunction with moments captured in Riga.
Martin Merkur, who in early 2016 accidentally discovered Jānis Kalnačs' book on artist Kārlis Padegs, initiated the project. Together with Liene, a profound interest arose about the artist's work and personality; together they were inspired to create an experimental project and a remarkable series of photographs developed.
The exhibition's photographs have now travelled to Berlin, where on January 26th Strolling with Padegs opened at the Passenger Coffee café (Elsenstr. 38, 12435 Berlin).
Shortly before the opening in Riga, Arterritory.com met with Martin Merkur and Liene Šilde, to find out a little bit more about the developed photograph series and the story behind it. Without a single interruption, but with smiles on their lips, Martin and Liene added onto each other's accounts, and told me about the idea and the most interesting moments in the creation of their project. One of the questions was whether they felt that Berliners would be able to perceive the exhibition's main idea, given that the photography is based around the perpetuation of the Latvian artist Kārlis Padegs' monument and about "taking him on a journey around Riga". Will it have the same effect on the viewer, who doesn't know anything about this Latvian artist?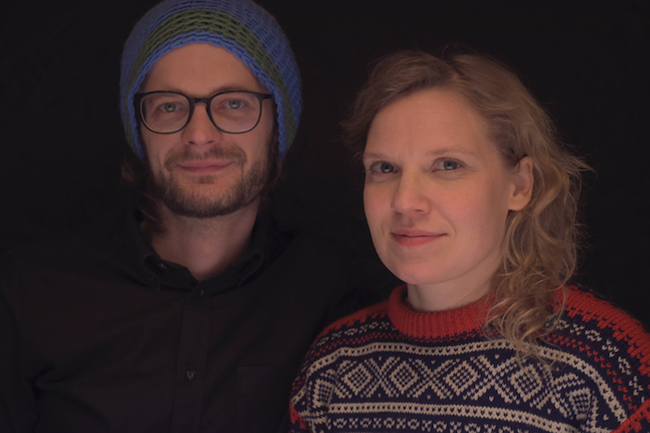 Martin Merkur and Liene Šilde
How did you come by the idea for this exhibition?
Martin Merkur: This question is difficult to answer, because we can't remember which one of us initially came up with the idea of exhibiting the photos in an exhibition.
Liene Šilde: Martin came up with the idea itself - about making such a photo series.
M. M.: I discovered a book about Padegs in Robert's Books bookshop, entirely by accident. It was my first encounter with the artist – I literally fell in love with his artwork. Reading the book I discovered that Padegs collaborated with German photographer Heinrich Bauer, by taking photos in the double exposure technique in the 30s. I can't say that these are my favourite photos, but it was really interesting to discover such facts. I found out that a monument is dedicated to Padegs beside Vērmanes Garden in Riga. We talked about it with Liene, and an idea arose to take 36 shots of the Padegs monuments from different perspectives.
Why 36?
M. M.: Because we were using a 36-exposure film. We took our camera along wherever we went, taking double exposures of photographs in different locations in Riga. We didn't plan anything particular.
L. Š.: Since we have an in depth interest in Padegs and his life, we knew where he lived, which streets he had walked along, what places he had visited. Consciously or unconsciously we followed his Riga paths.
M. M.: This was really interesting for me, as I discovered Riga through Padegs' eyes.
Was that your first time in Riga?
M. M.: No, I had visited Riga before, but after reading about Padegs, I got to know a completely different Riga – I paid attention to street names, I found out more about the history of Latvia and Riga.
You had your very own Padegs guide through the city.
M. M.: Yes, you might say so. (Laughs)
L. Š.: The idea to take a stroll with Padegs also seemed interesting from the perspective, that we are perpetuating his seemingly immobile bronze monument through 36 shots, and through double exposure - showing him the Riga of today. Of course it was an absolute experiment, because we didn't know what the result of the photos would be. A large part of the photos in the exhibition aren't shown – we used about six films all together, attempting to photograph the monument from the same perspectives in each. In some photos we managed to overlay not just a double exposure, but even three or four images, which makes it even more curious and abstract.

What played the biggest role in this project?
M. M.: The answer would certainly be coincidence. When we got our picture negatives, we noticed this interesting factor of several shots overlapping. Of course, we knew which sites we had photographed, but each of the images was a new discovery especially with the accidental multiple image overlap. It was also a challenge to scan the images, as new, differing formats materialized.
Most likely Liene was already quite familiar with Padegs and his work, but what was your first impression about the artist?
M. M.: I was fascinated by his art, and his personality as well as his attitude. I think it was very daring at the time to be so eye-catching, expressing his position and views on both art and current events of that time. The more I read about him, the more he captivated me. We spoke to our friends about him and learned even more, like the fact that he was a friend of Aleksandrs Čaks, and then we started reading Čaks' poetry. We even used one of his poems in the exhibition.
Which one?
M. M.: For Riga ("Rīgai").
Did Liene translate Čaks' poems for you?
L. Š.: I translated a few, but Martin found For Riga already translated into English.
M. M.: As Padegs had been inspired by Oscar Wilde's work The Picture of Dorian Grey we also read that. The beauty of this joint project is that we were both constantly learning and finding out lots of new things, making it a very personal experience.
L. Š.: Yes, from the beginning we said that we weren't necessarily planning for the project to lead to an exhibition. We were just enjoying the process and watching with interest, what would come out of it.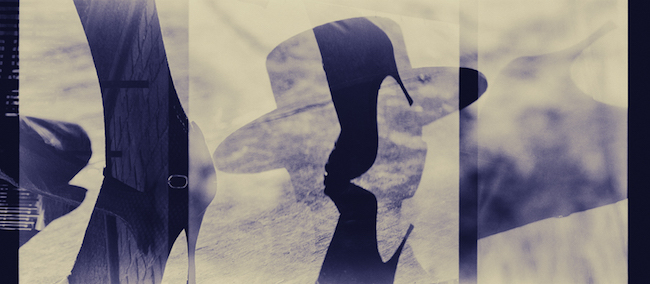 Where did you take the double exposure photos?
L. Š.: It was mostly in the city centre – on Brīvības, Čaka and Marijas streets. We also took many pictures in parks and of elements, noticed by chance, that associated with Padegs and his work, but we never knew what would come out of it. For instance, we knew that Padegs often portrayed prostitutes in his work. Though we didn't photograph prostitutes directly, there is an image, where one might notice the references to this theme – one photograph shows Padegs' monument and a woman's high-heeled shoes.
Did you choose the locations and take the pictures together?
M. M.: Mostly, yes. I was primarily based in Berlin at the beginning of this project, but I often travelled to Riga. We strolled around together and photographed – some days we didn't take any photos, other days we finished a whole roll. We have been working on this project together for several months.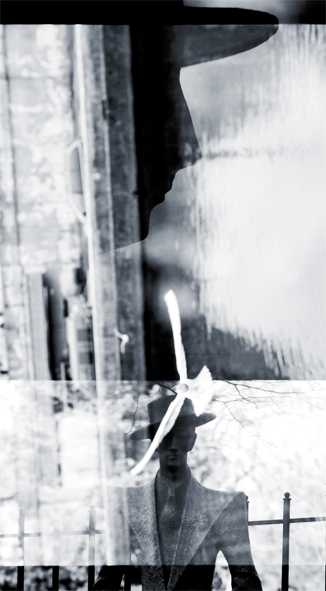 Are you pleased with the results?
L. Š.: Yes!
Presumably you went to see Kārlis Padegs' paintings at the Latvian National Museum of Art as well?
M. M.: Of course!
L. Š.: A view of the museum can be seen in one of the double exposure photos. But of course, it was also great to see the originals.
After the exhibition at Kaņepes Culture Centre you are planning to exhibit these photos in Berlin. What do you think; will Berlin be able to appreciate the story that hides behind these shots?
M. M.: I think about it occasionally, but I hope that the photographs possess sufficient artistic quality to enable them to be appreciated without additional information. We will of course include an explanatory book and informative text in the exhibition.
L. Š.: We have already shown the pictures to several people in Berlin, and they liked the photos in and of themselves and an interest arose about Padegs. We do, of course, tell everyone with great enthusiasm all that we have learned.
M. M.: In some ways I even consider it a mission - to get people interested and pass that information on.
Maybe someone from Berlin will travel to Riga, specifically to see the monument.
M. M.: Yes, why not.
It's interesting that you chose to photograph his monument, and not one of his works.
L. Š.: It's interesting that in many of our photos, it doesn't even associate with being a monument. It looks like a drawing or a print in some images.