"ЯRADA. Here and Now" 0
Interview with Alyona Bauska, designer and owner of the Latvian fashion brand QooQoo
Interviewed by Sergey Timofeev
13/03/2015
Alyona Bauska is coming to our interview from Pardaugava, the district famous for its 2 or 3 floor high buildings and quiet streets on the left bank of the Daugava river. "I've been thinking about moving to the center for a long time, but the fact is I have my own garden, and in the morning I can look through the window and see how everything is whiter than white.... And in the center everything is melted and there are only wet sidewalks..." However, her office for the designer fashion brand QooQoo is situated right in the center of Riga, on the Lacplesa street, almost directly opposite the "Osīriss" cafe, which hasn't lost its Bohemian status for the last 20 years. That is exactly where we are headed first to get coffee for Alyona, and then we ascend to the top floor of the hundred years old house from Riga's modernist era. Some of the rooms have the most diverse clothes hanging up, all finished and ready to be sent off. Here you can find delicate dresses with flowers or amber ornaments, hooligan-chic sweatshirts and hats with the slogan "ЯRADA. Здесь и сейчас" (translates as: "I'm happy. Here and Now" and visually reminds PRADA brandname), and leggings with little bears. Everything is very different, but bright, memorable, colorful, somehow summery and whimsical, and a little bit "coo-coo" as basically the name of the brand suggests. Although Alyona says that she rather associates the name with a French greeting (I honestly tried to google it afterwards and couldn't find it).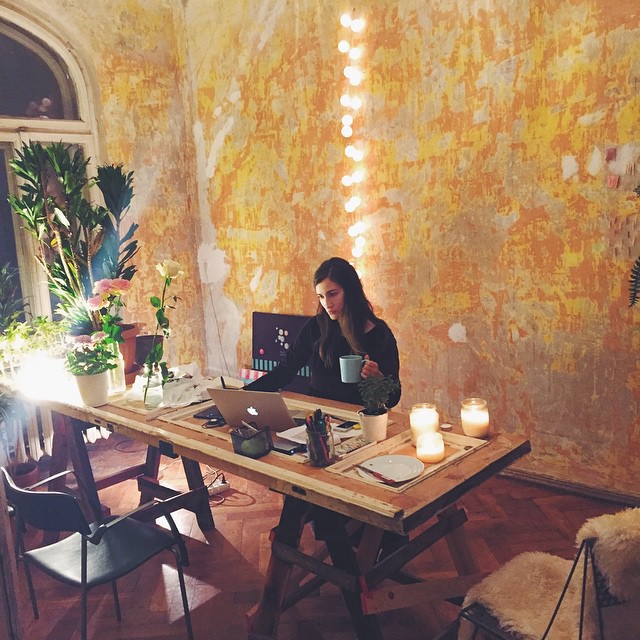 Alyona Bauska in her office. Photo from instagram.com/qooqooshka
Some of the things here get sent to customers in Hong Kong or New York, and some get shipped to different places here in Latvia. Alyona Bauska is one of the first fashion designers in Latvia of the Twitter and Facebook era, in which an international clientele that is dispersed all around the world is the norm. Her surname sounds the same as the name of a small Latvian town, but her first name is completely Russian, and you can definitely attribute Alyona to the double roots people, as both Russian and Latvian languages are native to her. "That is why it is funny, when I call a taxi for example, the operator always addresses me in Russian, because my name is Alyona," she tells us, smiling. Meanwhile Alyona Bauska feels somewhere in between and enjoys it, both of these national parts help her to not only look at herself and others from another angle, but they also give her solidarity with both cultures. She is a real fan of Latvian nature, as one of her collections was made with prints of different plants that blossom in her own garden. Overall, we can boldly say that Alyona is elegant, clever, unpredictable, and she reminds us of what different rockers have been calling a wild thing for half a century.
That is also how her debut in Latvian fashion happened, surprising and bright. She established QooQoo in 2009, and just a year later she became the main discovery at Riga Fashion Week, and won the "Best Debut" award at the "Stila un Modes Balvas 2010". But this was actually preceded by slow and assured professional growth; from the age of 18 she was involved in graphic design and worked a few years in advertising. These were her starting points.
You started out as a graphic designer and worked for big agencies, correct?
It was serious schooling. Even before that I was studying graphic design and worked in that sphere as a freelancer. I liked improving myself, I liked to fall asleep and wake up with new ideas for my projects. But during the last couple of years I started to look closer at my colleagues that had been working at the agency for 10 years. And I realized that I didn't want to spend my life like this - sitting in a chair in front of a computer. This industry squeezes the artistic potential out of people completely. So I slowly started to seek "something else", a hobby of sorts. Once at the Estonian Museum of Modern Art KUMU I found out that they were having a workshop for painting t-shirts, and I pleaded to be accepted, even though it was a children's group. But I desperately wanted to try it out! And so my new hobby became painting t-shirts with special water-based textile dyes. One of my first attempts was for the band Astro'n'outs, I made t-shirts with gradient squares, a little bit reminiscent of Mark Rothko, only even more minimalist. This way I developed my own technique, but from this batch nothing could be replicated because it was the so-called limited edition.
Afterwards my former colleagues from the agency made a proposition to try digital printing, and so the three of us girls decided to open our own thing. But there wasn't any thrilling success as the management always ran into some "swindling" options. The whole concept was very crude. Eventually we broke up, but a little later I had a vision of how everything should really be, how I can apply my knowledge of graphic design even further. As a result there was a collection in 2010 that turned out to be very fresh in the general backdrop of local fashion. The collection was all knit-wear and very "wearable" with bright graphic colors, prints, and it was immediately noticed and applauded.

Publicity photo
But when you analyzed the mistakes of the previous attempt, how did you formulate it for yourself, what did you do differently?
First and foremost I realized that the brand itself was not properly formulated. So I made a website and came up with a logo. At the time Twitter was just taking off, and I decided to try it out. This sort of marketing became the second hobby for me, and sometimes I don't even know what is more interesting to me, the design, the creation of things, or their "promotion". My goal now is to create something that can bring happiness to the maximum amount of people.
In a small growing company there are a lot of things to deal with. But this is also a social project. There is daily communication with clients and interested parties through Instagram and Twitter, and the social media for me is not just a news channel, but also a way of presenting and offering my products, so that it can be something interesting and new for me also.
On the other hand, social media immediately wipes away the local boundaries of popularity, so you gain not only a local audience, but the geographical boundaries grow...
You know, I began my business during the crisis, and if it wasn't for those platforms which allowed me to address an international clientele, then the whole ordeal probably would have withered. The Latvian audience was not so developed or focused on buying things en masse on the internet. Now the popularity of Latvian design is growing rapidly in the local public eye, but back then it wasn't very familiar. Here of course a few famous bloggers played a special role, like Agnese Kleina, who still holds the level of an A-class blogger. Anyway, altogether in that moment everything was only just starting and the appearance of the digital promotion of fashion directly coincided with the appearance of QooQoo. Now I compete in popularity on Instagram with Dinamo Rīga and the Positivus festival.
What percentage of your sales are in Latvia, and what percentage are abroad?
It changes from one collection to another. But on average in the last year it was 50/50.

Museum Collection "Timeless"
What was the collection in 2014, with prints of the objects from the Latvian Museum of Decorative Art and Design?
Yes, I was able to make a few of those collections in 2014. Together with the museum we came up with an idea to do a retrospective of the 1920s. Firstly, we used unique china from the Baltars workshop, and aside from that we also used stained-glass imagery. I think I am the most serious designer in Latvia that deals with prints on fabric, and that is probably why the museum contacted me. Their idea was to actualize these things so they could gain a second life. And so, for example, there was a great skirt from "stained glass", and the whole set was requested by the Cologne Art Museum, which is going to have a huge exhibition this year dedicated to fashion. In that exhibition my "stained glass" set is going to be near objects from such fashion gurus like Yves Saint Laurent and Vivienne Westwood. It is so nice to be in a museum exposition. The second little collection I made only just recently, it was made up of prints of amber works from the collection of the same Museum of Decorative Art and Design. I think it is a very interesting and paradoxical moment, when the constantly changing fashion, something that is fundamentally impermanent, is paired with "traditional values", the technique of which is passed down from generation to generation. The photographs from this collection will be included in the book "Dzintara Laikmets" ("The Era of Amber) which is being prepared by the museum and they already have a mock up. These pieces will be exhibited in the actual museum also. Overall it is all very exciting to wear a real museum item on your body, although it is just an image of the museum piece, it also carries the reflection of this item.
Fashion is not just design, it also has its own particular technologies. Still, you came to fashion from another sphere. How difficult was it to plunge into these other specifications?
I did it slowly, at the beginning I had a wonderful seamstress who I really trusted. And while working with her, I started to find out more about mixing different fabrics and other similar issues. In graphic design I had some notions about the full process of getting ready for printing, say, in some publication. Here it is a bit similar, there is also a huge amount of different technical aspects, the choice of fabric, the cut. But my philosophy in that particular matter is that the easier it is, the better. One of the rules of good design is that if there is nothing to take away, then it is the perfect piece. Using accessories or decorations is just not my style.

Publicity photo
When you are making collections, do you imagine which piece will be the new "hit"?
I cannot predict which items will be more popular. But quite often they are not the most "harmonious" or calm pieces, but the brightest, even the "screaming" pieces. Perhaps the brand itself, its image, is pushing the audience to do this. Recently the most popular items are the leggings with the bears, which weren't even made in the framework of any collection, it seems it was only made for the Lāčplēsis Day. I could have made a whole line of these animals, but last autumn I was inspired by a completely different topic: "the hood", rap, hoodlums. And the main hits of this topic became sweatshirts, t-shirts, hats with the slogan "ЯRADA. Здесь и сейчас". In the last year the excitement for this print has not died down. Of course in a way it is funny, when you make a whole collection but people only come for one specific item. But I like that my customers chose such a positive and somehow "buddhist" message. It is also very close to me. Overall I was very interested in the aesthetics of the dashing and changing 90s: beemers, gold chains, cool hood boys in tracksuits, fighting dogs, imported sweatshirts with fake "brands".
Yes, I remember there were the "Abibas" sneakers...
Yes, also the collection saw another topic of transforming "Chanel № 5" into t-shirts with "Гетто № 8" (Ghetto №8), as it was my 8th collection. And it garnered a lot of interest, in general it was a success; authoritative fashion editors of "glossy" magazines flaunted the sweatshirts from this collection at various social events. After that I probably needed a necessary rest, but the fashion industry moves at a frantic pace: the new year brings the need for a new collection. It does not really fit my philosophy, I think that the great epic items should appear by themselves, rather than at a target deadline.

Backstage. During the showing of the "Botanika" collection
And how do you rest?
I really like taking a rest, but there is no concrete recipe for it. Yesterday I went to a show at the Ģertrūdes Street Theatre. In general, I try to combine a dose of culture with a dose of physical activity, and of course, socializing with my friends. Right now I am learning how to meditate, but I noticed that when I am trying to switch off from thoughts and work, that is exactly when the most interesting ideas come to me.
Are you a city girl, or is it important for you to dissolve in nature, perhaps once a week?
It's not possible to do every weekend, but when you escape the web of the city, you absolutely don't want to come back. I really like the forest, when you walk into it you find yourself in a completely different environment, a mystical space. I don't really like the sea because of the wind, but when it is calm it's amazing. Actually, I am very close to the ecological model of existence: not littering, not buying too much, and caring for the forest. Yesterday in the play "Uncle Vanya" there was a part where they discussed the cutting down of trees, and how people's values become very shaky. Chekhov said this more than a 100 years ago, what would he say today?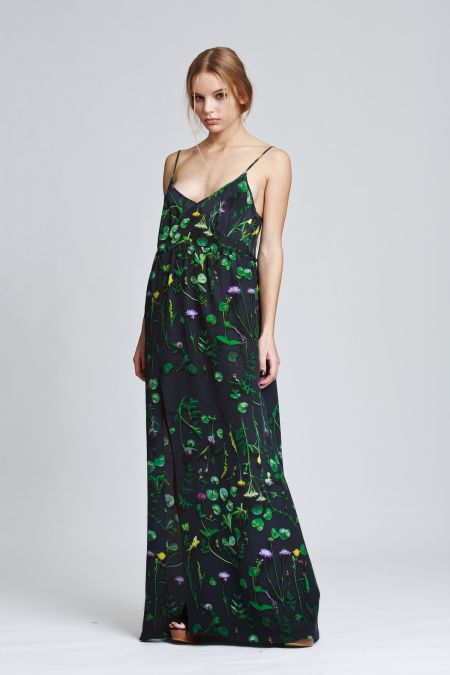 Publicity photo
It seems that in Latvia he could rest his soul a little...
Maybe, the forests here are okay, but the rural culture is disappearing, people are losing ties with nature, even the knowledge of how to exist with it. And people feel like strangers in nature, but in reality it shouldn't be this way. And now, as I think about the new topic for the next collection, I want to know more about this area of expertise, about the different traditions of "amulets", about some original roots, and I want to try to find a new form for all this.
Who else interests you from Latvian designers?
I am friends with a lot of them, they all have something new I could learn. There is something new every time. I like to wear clothes made specifically here. My shoes, for example, are from Woolings, and last winter I couldn't even force myself to wear anything else. The materials are all natural: wool and rubber. You can equip yourself with your own pair, either something classical that is suitable for all occasions, or something bright and memorable. There is also Elīna Dobele's excellent atelier Zofa, and for a while that was the only designer shoe brand in Latvia. There is a new brand called Inch2, but I haven't seen their things "in real life" yet. In terms of clothes I really like Agnese Narnicka, for example, she has a professional approach. But in general if you want to know the interesting things going on in this sphere, you could visit Riga's concept stores 8 Rooms and Paviljons.
Overall there are so many talented people in Latvia that it is hard to summarize it all or talk about some tendencies. Personally I am interested less in those who are trying to orientate on the archaic (for example some mittens or carpets the color of moss), and more in those who are trying to innovate what "Latvian design" is about, those trying to find a new meaning for those words. In ten years time it will be more clear, and then it will become easier to define the essence of all this. Technically we are living in a very new state, and a lot of things are just beginning, just finding their right path.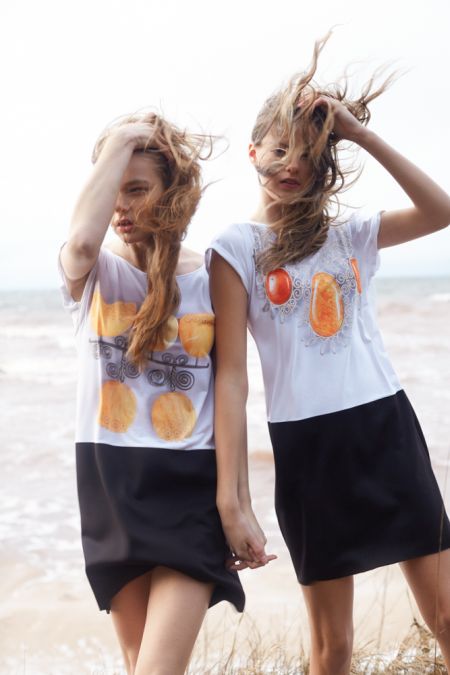 Publicity photo