Another of my discoveries, "Fight for Europe", also came to me as an unknown artist's work. It also stood on the floor of a gallery among other pictures for two years. The gallery owner told me: "Well, if it was signed by Zardins..." But I saw completely different manner in it, completely different energy. And the signature said A. Ventuel. The gallery owner couldn't find any traces of this artist anywhere. As for me, I studied German in school, so I realized that "eventuell" means "eventual", and it must be a pseudonym, not a name. So, I looked at it and thought: "I have seen these long hands somewhere before". I realized that I know the manner of this artist very well. I purchased the work, brought it home, thought a lot about it, and then woke up in the middle of the night... I usually am a calm, contemplative person, and here I wake up at 3AM with my head humming. My first thought is to go to the bookcase, to open the album "Russian Graphic Art" and to find Masiutin's work from the cycle "Seven Deadly Sins". I open it, compare to this recently purchased work and – yes! – it's the same manner, same composition, same stretched hands.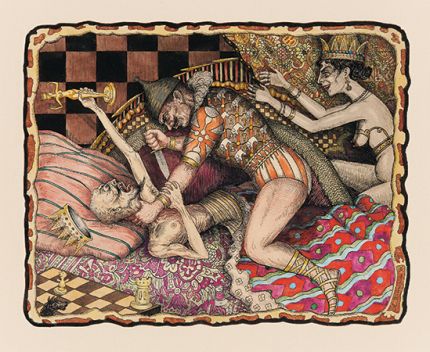 Vasilii Masiutin. Fight for Europe. 1940. Ink, watercolour, silver on paper. Collection of Anatol Pedan
Sometimes I see the work and I know it's something extraordinary, I definitely have to have them. There are works that open up slowly, and some will probably open up in quite long time.
So, I needed a place to practise all my collector's activities. I had to sell several works, for example, one of Bogdanov-Belsky, and I regret a lot that it is not in my collection anymore. In 2002 I managed to purchase this place in Pils Street, it is a bit aside from usual tourist paths, but I don't need them either. My gallery has never worked as a public sales gallery; it is rather a research centre, where I sometimes organize demonstrations, but only after a special invitation.
I am not an entrepreneur by nature. My friends say that it's too bad. I have many works that formerly had interest in me, but now the whole groups are put away. Probably, I will eventually come to this and put them to sale after we finish the reconstruction of the gallery.
How did you come up with the name of your gallery?
The name "Galerija Haberland" is a tribute to my mother, who took part in many building projects in post-war Riga. Also, name of Christoph Haberland is not so renowned in Riga, even though in the end of 18th century he has built more than 20 urban Classicism style buildings in the Old Town.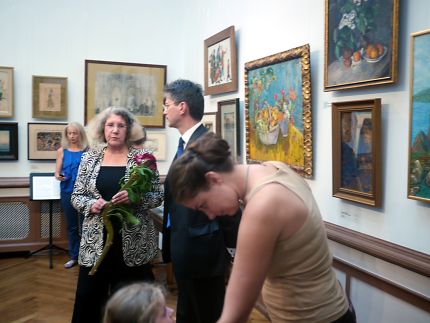 At the 'Restored Names' exhibition. In the centre Ludmila Neimisheva, Chief art collection supervisor of the Latvian National Museum of Art and exhibition curator, holds discourse with Alexis de Tiesenhausen, International Head of the Russian Department at Christie's.
So, it is possible to say that now you are working on your collection, on your gallery. You are selling something, purchasing something...
Yes, like all the collectors do. And my collection has grown quite large. Mostly, in such cases, collectors hire a professional art expert to classify it. But I like to do it myself, I like to work with archives, to gather factual material. At the end of the day there even was the exhibition and the catalogue released. But its content is only a part of the entire collection: it is much larger. There are lots of graphic art and the entire series of theatrical works – it is rather a separate layer – and many other things.
I have just returned from London where I attended traditional events of "Russian Week", have had meetings with staff from Russian Department at Christie's, where the presentation of my book "Restored Names" took place. I have also met Alexis de Tiesenhausen, International Head of the Russian Department at Christie's, a professional, and a tireless researcher, who wrote the introduction to my book and visited the opening of my exhibition in Riga. In London I have personally met many collectors of Russian art and researchers. Nikita Lobanov-Rostovsky, Ivan Samarin, Valery Dudakov – these names need no comments. Probably, these meetings also could help to lift the veil of the oblivion on the entire series of other works from my collection, authors of which are remaining unknown by now.
"Restored Names" exhibition catalogue