ArtVilnius'16 – We Can See Through You! 0
A look back at the ArtVilnius 2016 art fair
Agnese Čivle, Rita K. Zumberga
22/06/2016
Photo: Rita K. Zumberga
ArtVilnius'16 has once again managed to cement its spot as the largest air fair in the Baltics – over its four-day running time (9-12 June 2016), approximately 21,000 people visited the event. Among the throngs were not only art lovers and collectors from Germany, France, Turkey, Italy, Russia and the Scandinavian countries, but also hundreds of local families with children, who were attracted by the broad educational program offered by the fair.
Rotating propellers with chickens sitting on them, bales of trash hanging from the ceiling, performances with intermittent yelling, a sizable chess set made of ice, and truly powerful visual artworks made one quickly realize that behind every next wall of the exhibition, something surely intriguing awaits. Part of the Grand-Land's Museum project, Latvian artist Aigars Bikše's "Trojan" cat – made of wooden boards and painted bright yellow – was a piece that immediately caught visitor's attention.
"The outcome of the art fair clearly indicates that we have reached our objective," assuredly said Diana Stomienė, director of ArtVilnius, at the event's closing. And she was right, for according to the data, around 200 works that were exhibited in the halls of Litexpo have found new owners, sold at a total value of more than 260,000 EUR; the true amount is likely much larger, since many transactions take place after the fair.
IN THE ARCHIVE: Arterritory in Pictures: ArtVilnius'16; Photographs from the largest art fair in the Baltics

Matas Janušonis. "Eyephones", Vilnius, Lithuania
Last year, the fair provided its visitors with an aural experience that involved piping through speakers the sounds of jazz while audience members lounged in a haystack; this year, fair-goers were treated to the rhythmic gongs of bells, highly reminiscent of the sound emitted by a herd of cows grazing in an alpine meadow. With their steel-bar installation titled "II", Paulius Rainys and Nikolaj Kynde produced a triumphant impact – their piece not only served as an auditory background for the adjacent piece by Kestutis Svirnelis (a boy blowing a huge bubble of plastic film), but created an overall ambiance for spectators as they strolled through the PROJECTS hall.
"Eyephones", an installation consisting of shiny metallic half-spheres, by Matas Janušonis, introduced itself in a similar manner – when approaching a small corner set up for relaxation purposes, the air seemed to become thicker as it resounded with wave-like motion and deep booming noises made by the mirror-like orbs. Thoughts of millennia-old gongs came to mind, but as for the artwork's therapeutic effects, we'll have to wait and see…

Donatas Stankevičius. A photo from the series "Old Drivers". 2013. (c) Photo: Donatas Stankevičius
Known for presenting to the public fun ways in which to experience art, the Kaunas Photography Gallery tickled a different set of senses – having been given small flashlights, visitors to the stand entered a dark, closed-off room in which they peered at photographs from Dontas Stankevičius' series "Old Drivers" hanging on the walls. The beams of light emanating from the flashlights conjured up eerie feelings, almost as if one were a police officer out on night patrol, catching old men committing crimes at the steering wheels of their cars. One can surmise that the provided adventure was fruitful, for the gallery easily sold several of Stankevičius' works.

Danas Aleksa. "Flos Artifici". Vilnius, Lithuania
There was yet another dark tunnel that served as a fairy-tale-esque stage for objets d'art: Danas Alekas had pedantically arranged flower herbaria in fragile glass tubes, and illuminated them with strictly placed lights. "Flos Artifici" is Latin for "flowers for the artist", and succinctly describes the essence of the work – the dried flowers used in the installation were gladly donated by other artists who had received them as congratulatory gifts for their shows held in 2015.

Jolanta Šmidtiene. "Fire Dance". Textile installation, Balta gallery. Performed by: Indre Puišīte
Last year's clear favorite in the performance field was Monika Dirsyte's act executed in an aluminum barrel, but this year, one couldn't say that there was one single standout performance piece. Along with a group of colleagues, the above-mentioned Dirsyte exhibited a ten-hour marathon of passionate conversation and laughter titled "Kompleksas", yet it failed to connect with the foreign visitors at the fair due to one banal reason – the language barrier. Indre Puišīte, however, did present an exciting performance: accompanied by an atmospheric soundtrack, she lightly strummed the fine strings of Jolanta Šmidtiene's textile installation "Fire Dance". Puišīte's graceful movements effected an ember-like glimmer, thereby giving birth to a decidedly otherworldly place.
IN THE ARCHIVE: Read in the Archive: Experiencing ArtVilnius 2015. Cross Section

Vilmantas Marcinkevičius. Grafo Galerija, Vilnius, Lithuania
Debuting at the fair was Lithuania's Grafo Galerija, which had stepped into the art market just six months previously. Representing both Lithuanian and Northern European artists, at ArtVilnius'16 the gallery showed paintings by Danish artist John Reuss and Lithuanian artist Vilmantas Marcinkevičius. Many people may have already been unknowingly exposed to Marcinkevičius' non-traditional harmony of colors while drinking beer brewed by the Lithuanian brewery Dundulis – the labels on their bottles of Magistra beer feature a reclining woman wearing red pants, from a painting done by Marcinkevičius. As revealed by a representative of Grafo Galerija, the original painting was recently sold at the Art Dubai art fair by the Rooster gallery; it was bought by a Munich architect, for 10,000 EUR.
According to the final press release of ArtVilnius'16, Marcinkevičius saw returns at this fair as well. Until recently, the artist was linked exclusively with Denmark, which is where he has been represented by the NB gallery for several years now. Although Marcinkevičius has worked in Lithuania as well, his works had only been available through NB.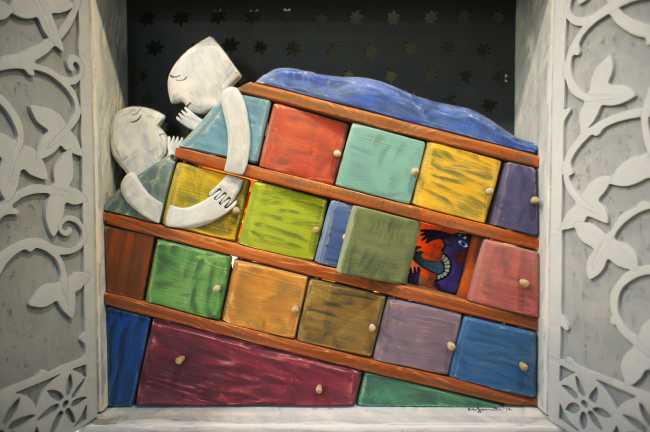 Marius Jonutis. "Like in a Dream", 2016. Meno Niša, Vilnius, Lithuania
The Vilnius gallery Meno Niša presented a comparatively large number of artists – fourteen. Its head, Diana Stomienė, also happens to be the president of the Lithuanian Art Gallery Association, as well as the director of ArtVilnius. Meno Niša had selected a widely diverse range of works to show at the fair, many of which were paintings. Visitors were most drawn, however, to the painted wood artwork "Like in a Dream", by Marius Jonutis. It was a clever narrative about the relationship between two people and the experiences and situations that they encounter. Fair-goers were quite taken with opening up the many small wooden doors of the piece, through which were revealed different symbolic events and happenings – much like in a Christmas advent calendar.
Vladimir Tarasov. "Untitled", 2016. Meno Niša gallery, Vilnius
Followers of the Lithuanian jazz musician and artist Vladimir Tarasov were treated to a decidedly peculiar and hypnotic video – the never-ending crawl of a wasp around the perimeter of a glass. Last year, Tarasov's gigantic multimedia installation "The Sixties" (2009) was exhibited in the fair's PROJECTS section, and took up the whole of Litexpo's Hall No. 4.
IN THE ARCHIVE: "If someone tried to play like Jimi Hendrix now – they wouldn't get anywhere!" An interview with jazz musician and artist Vladimir Tarasov

Back, left: Kristaps Ģelzis. "Artificial Peace. Episode 5", 2015. Right: A work by Michel Castaignet. Center: Gļebs Panteļejevs. "Conservative Values", 2015. Māksla XO gallery, Riga
The Latvian gallery Māksla XO presented the works of three artists at the fair: French-born Michel Castaignet, and the Latvians Gļebs Paneļejevs and Kristaps Ģelzis. "Artificial Peace. Episode 5", a large-format plastic-film painting by Ģelzis, was viewed by many at last year's group show "Personal Structures – Crossing Borders", a collateral exhibition of the 56th Venice Biennale. At ArtVilnius'16, displayed in front of Ģelzis' painting were several dozens of canning jars made from birch wood (instead of the usual glass) – the work titled "Conservative Values", by Gļebs Panteļejevs. All of Panteļejevs' sculptures at the fair were so eye-catching that they were hard not to notice; especially popular with viewers was his unicorn with a rotating horn, "Stream of Consciousness I".

Guda Koster. Art-Cart gallery, Kaunas
A great surprise for fair-goers was the Kaunas-based virtual project "Art-Cart", which has evolved under the auspices of the Kaunas Biennale. The Dutch artist Guda Koster has been working with the virtual art platform for a while now, and Art-Cart took the opportunity to show something of a rarity on the Lithuanian art scene – living sculptures. Every evening of the art fair, visitors were invited to listen to three living sculptures converse among themselves about what it means to be a sculpture. Meanwhile, the gallery's stand featured Koster's photographs of living sculptures, in many of which the artist herself played the leading role. Koster creates her sculptures using fabric and clothing that define daily life – our social standing, our interactions with others, and how we see ourselves – thereby enveloping a multitude of symbolic meanings.

Guda Koster speaks about her work "Twins".
On-site in the stand itself, Koster expounded on her works: "This checked fabric is reminiscent of blocks of apartment houses, and I've dressed two people in it – twins. This then is the story of the Twin Towers. This gray fabric, on the other hand, is used as a drop-cloth to protect surfaces when painting or remodeling a room. I've used the fabric to clothe this woman, the walls, and a houseplant. The work speaks about my fear of becoming a lonely gray mouse whose only activity is watering houseplants."

Severija Inčirauskaitė-Kriaunevičienė. "Kill for Peace", 2016. Galerija Artifex, Lithuania
Deemed by fair experts as the best sculpture/installation was a piece by local artist Severija Inčirauskaitė-Kriaunevičienė, who is represented by Galerija Artifex, the textile gallery of the Vilnius Academy of Art. Severija's works include such objects as perforated, and then embroidered, rusty pails and automobile hoods, but serving as her embroidery canvas this time were real soldier's helmets from various wars.
This latest series of Severija's, titled "Kill for Peace", references the Vietnam War protest ballad written by the New York rock group The Fugs. The helmets are real relics from both World Wars, as well as one from the recent conflict in Ukraine; decorated with cross-stitched daisies, poppies and pansies, the symbolic meanings of the various flowers bring across a message about various life values.

Severija Inčirauskaitė-Kriaunevičienė speaking about her work "Kill for Peace"
Severija has caught the attention of curators outside of Lithuania as well, and last year she was invited to participate in the street-art project "Dismaland", which was organized by the famous British graffiti artist Bansky. Severija's works were displayed next to those of such big-name artists as Damien Hirst, Jenny Holzer and Axel Void.
Monika Žaltauskaite-Grašienė. "Still Smiling", 2016. Galerija Artifex, Lithuania
The other artist being shown by Artifex was Monika Žaltauskaite-Grašienė, whose works have also been shown by the Whitworth Art Gallery in the UK, a serious player on the contemporary art scene. Monika's presentation at ArtVilnius'16, "Still Smiling", reflects upon the 2012 fire that destroyed the Church in the Name of St. Virgin Mary, and the charred statue of the Virgin Mary that could still be seen to have a smile on its face… Monika transferred a photograph of the burnt statue into jacquard fabric, thereby "giving" the saint a new set of clothes to replace the ones lost in the fire. According to the final numbers for ArtVilnius'16, this piece was sold during the fair.

The presentation of Nulinis Laipsnis _0* gallery
Nulinis Laipsnis _0*, Lithuania's first gallery featuring conceptual architecture, received the fair's award for "Best Lithuanian Gallery". The gallery currently operates as a platform for critical thinking – architects are invited to express their thoughts and critiques on topical issues through essays and interviews; expression of opinions by the public are also encouraged. At ArtVilnius, the gallery presented the idea that architecture must be fundamental, and it posed the question of – How can we be sure that a work is truly original? The gallery's exposition featured contextually powerful referencing through odoriferous black rubber flooring, which had also been put up on the walls; its artistic content, however, was expressed through "pinhole" photographs taken by the young Lithuanian architect Saulius Slavinskas – created by placing the camera on the glass surface of a facade, the resulting reflections produce images that are genuinely surreal.

Marcin Kowalik. "Venus VII", 2015. Garnering much attraction from buyers, Poland's galleries made good use of their special status at the fair. The Stalowa gallery sold four artworks in just the first days of the fair.

The artist Kristina Norvilaitė sold eight artworks at the fair, two of which were bought by ArtVilnius'16 patrons Law Firm Cobalt and their partner, Irmantas Norkus.

A work by Alexey Lunev. Y gallery received the "Best Gallery at ArtVilnius'16" award, and the works by Lunev were the most popular by far.

Saulius Vaitiekūnas. "Truba" / "Pipe", 2007. Terra Recognita gallery, Vilnius. Quite possibly the most photographed work by a Lithuanian artist shown at the fair.

Gļebs Panteļejevs. "Stream of Consciousness", 2016. Māksla XO gallery, Riga. Quite possibly the most photographed work by a Latvian artist shown at the fair.

Beatričė Mockevičiūtė. 5 Malūnai Gallery. A student at the Vilnius Academy of Arts, Mockevičiūtė received the "Best Young Artist" award at ArtVilnius'16 for her levitating sheet of glass. The award came with a nice 1000 EUR prize.

The solo show "The Daughter of the Sun II", by Latvian artist Aija Zariņa, was shown by the Riga gallery Tifāna; the gallery garnered a significant amount of attention at the fair.

Rita K. Zumberga and Agnese Čivle. Photo: Rytis Šeškaitis. ArtVilnius – a great opportunity to not only observe others, but to also see oneself from the sidelines.
ArtVilnius'16 successfully started off the run of summer art fairs, with Art Basel also having just closed down (Arterritory.com's reporters covered that fair as well). It can be fairly said that, in the miniature art scene of Vilnius, a vitally important task was done during one weekend in June – the local art market was once again reactivated and re-energized.